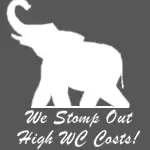 Weekly or Monthly Payment Plans for Workers Comp
The payment of a large annual lump sum or even quarterly payments for workers' compensation insurance coverage can be an expense that is difficult to budget for. The cost of buying work comp coverage is based on an estimate of annual payroll at the inception of the policy year. This can create problems for small businesses with staffing needs that fluctuate throughout the year.
Often, many small businesses don't know what their payroll will be over the next 12 months. This problem has led several workers' compensation insurance companies to create "Pay As You Go" programs, with weekly or monthly payments, for the companies they insure.

Benefits of Buying the "Pay As You Go" Workers' Comp Program
In a Pay-As-You-Go program, there are various benefits for the employer, some of which include:
Eliminating or greatly reducing the down payments
Eliminating premium financing
Weekly or monthly payment plans for Workers' Comp insurance
Eliminating checks to write
Reducing premium audit risk
Reduced premium adjustments when premium audits do occur
Improved cash flow by adjusting premiums to payroll changes
Possible lower overall cost of work comp coverage
How the "Pay As You Go" Program Works
A Pay-As-You-Go program is often set up in conjunction with the payroll program of the small employer. In the Pay-As-You-Go program, the employer reports the pay for each employee each week (or bi-weekly), combined with the classification code for the employee. The work comp carrier then calculates the employer's premium based on actual payroll amounts.
This eliminates the large lump sum payments, making the work comp insurance premium an expense the employer can budget.
It also greatly reduces the work comp carrier's need for a premium audit at the end of the policy year.
Carriers that offer Pay-As-You-Go WC insurance programs use real-time payroll data that is transmitted to them by an authorized or approved payroll processor.
The InsurePay system calculates the premium based on the payroll reported, and the job classifications.
To collect the premium, InsurePay uses an electronic funds transfer from the employer's bank account to their bank account.
The computer's calculations for the work comp carrier will include not only the gross wages paid to each employee, but also add in vacation pay, bonuses, commissions and other forms of compensation.
The computers are also programmed to exclude overtime pay (in most states).
State specific exceptions are included in the programming.
"Pay As You Go" Program Insurance Brokers/Agents
The insurance brokers who offer a Pay-As-You-Go program will often promote it with promises of special features like:
Quick quote process
Easy payroll set-up
Multiple insurance companies to chose from
Low or no premium deposits
Automatic renewal
Ability to place high risk businesses
Simplification of business by combining payroll process and workers comp payroll record keeping
Work comp certifications for sub-contractors
Eliminate surprises
Eliminate hassle-filled audits
"Pay As You Go" Workers' Comp Insurance Program Summary
A Pay-As-You-Go insurance program can make payment for work comp insurance easier for the employer.
Locating and selecting the best Pay-As-You-Go program can be tricky.
If you would like help to locate a broker who can assist your company with a Pay-As-You-Go program, please contact us.
BUY WORKERS' COMP NOW!

Workers' Compensation Insurance Quote Center
[include file=menu-buy.htm]